I wrote about my super cool and free experience in the Yas Marina Circuit in Abu Dhabi, which I think you should definitely visit. I have to say I am a fan of Abu Dhabi city, I love the place and it is my first city I visited in the UAE so that may be the reason.
Abu Dhabi has some amazing beaches, relaxing atmosphere, great hotels, people and the traffic is not so bad. 😉 Plus the distances are shorter so I don't have to spend an hour or two in the car driving from A to B.
Another great and free place I think you should totally visit is the Abu Dhabi heritage village close to the Marina Mall, especially if you are visiting with family. On my recent trip there I book my mum and my aunt to visit the village. Needless to say they were very happy and excited to experience "to see an old Arab lifestyle".
The village is not very big and it is kind of touristy, but it is nice to see the small wooden houses, the desert tends, the beautiful craft stores and the small museum.
We visit the UAE these days and we see only the luxury cars, hotels and tall buildings but they have so much more to offer. Only 60 years ago they were all tribes and to think of this especially for someone who comes from Greece with thousands of years of history is fascinating the least.
The entrance to the village is mimicking an old style wooden entrance.
On the right there are some small shops in wooden hats like Arab desert houses when you can buy the typical touristy things.
Tip: Definitely use your haggling skills there.
On the far right you can see a tends, a camel and experience what it is to be transported into the old hot (it was boiling when we went) Arab desert. Seriously I cannot imagine how people lived there. It's amazing.
There is also a small mosque which is really nice but unfortunately I didn't see a female entrance during the prayer time. So do keep this in mind if you go.
Straight from the entrance there is a restaurant where you can have lunch and enjoy the view. We didn't go there but it did look like it was busy with people.
On the let of the entrance you can visit the museum, which is small but it has some nice artifact about the pearl finishing, how they lived and old photos of Abu Dhabi. Plus it has an air-condition. I really like such museums because it gives you a glimpse into the history and traditions of a country so make sure you visit.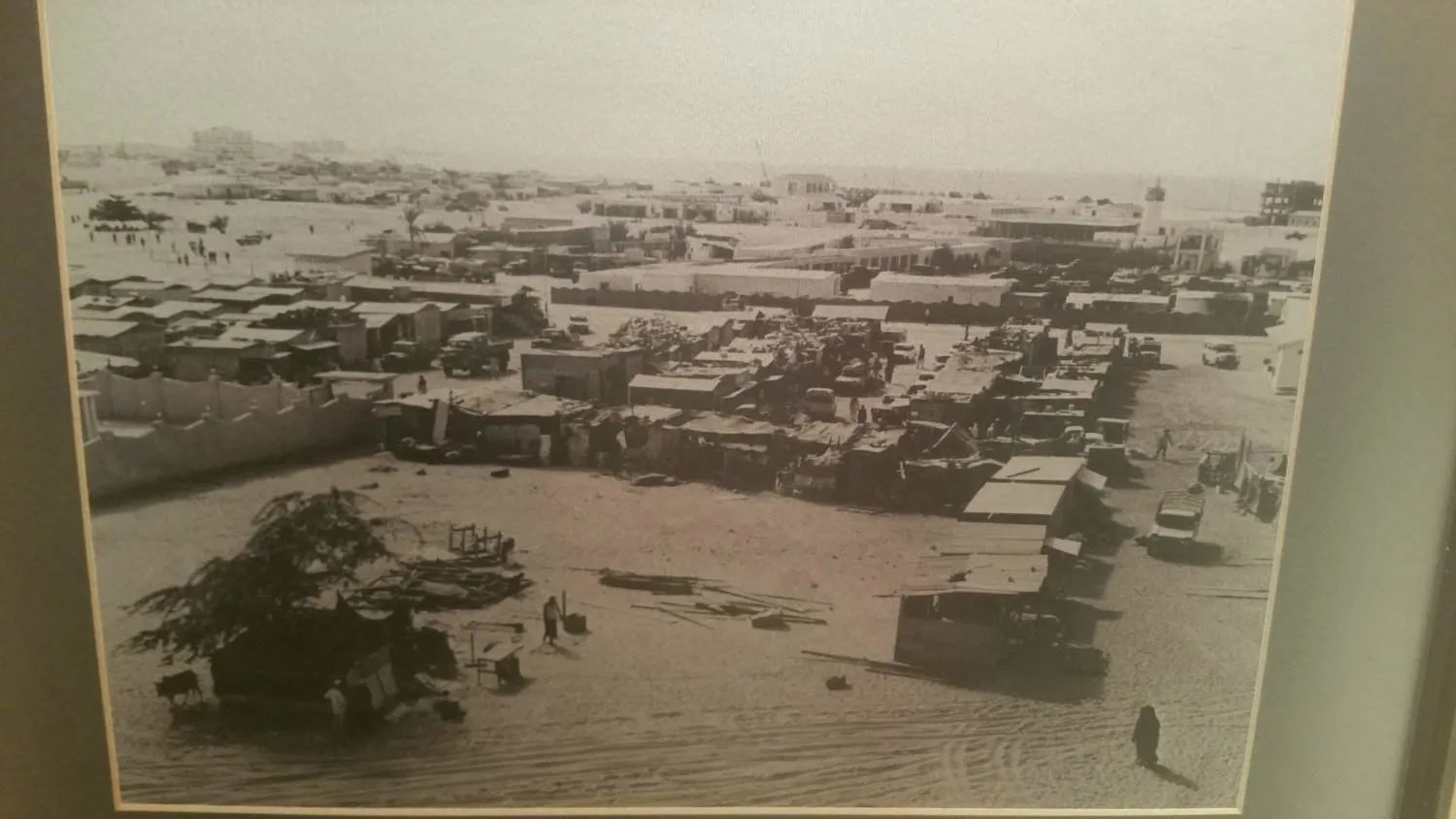 They also had some craft shops where you can buy gifts as well as see how they actually make them. By far the most impressive for me was the glass shop. Some amazing pieces and all hand crafted.
The winner for me was the view and the beach. Because it is on the opposite side of Abu Dhabi towards the marina you have a full view of downtown Abu Dhabi. The sea was crystal clear and it was a lovely place to just relax and walk on the shore. Even the photos don't do it justice.
Overall I think you can spend an hour or more there, depending on your speed of exploring. It is worth a visit and I would highly recommend to take the kids to explore it.
Opening Times: Saturday to Thursday from 9am to 5pm, and Friday from 3.30pm to 9pm